At the end of March, the Department of Elementary and Secondary Education (DESE) adopted updates to the 2010 Massachusetts Mathematics Curriculum Frameworks. This post will focus on the expectations and guiding principles for mathematics programs in our schools. Over the course of the next year, as we review, assess, and update the district's mathematics curriculum, we will be guided by the following principles and expectations of the standards from the 2017 Massachusetts Mathematics Curriculum Frameworks. A strong, integrated, well-planned, and rigorous mathematics program, as referenced in the Massachusetts Mathematics Curriculum Frameworks (2017, p.5), promotes the following:
A Balance of Conceptual Understanding, Procedural Fluency, and Application
The standards strategically develop students' mathematical understanding and skills. When students are first introduced to a mathematical concept they explore and investigate the concept by using concrete objects, visual models, drawings or representations to build their understanding. In the early grades they develop number sense and work with numbers in many ways. They learn a variety of strategies to solve problems and use what they have learned about patterns in numbers and the properties of numbers to develop a strong understanding of number sense, decomposing and composing numbers, and the relationship between addition and subtraction, and multiplication and division. In calculations, they are expected to be able to use the most efficient and accurate way to solve a problem based on their understanding and knowledge of place value and properties of numbers. Students reach fluency by building understanding of mathematical concepts (this lays a strong foundation that prepares students for more advanced math work) and by building automaticity in the recall of basic computation facts (addition, subtraction, multiplication, and division).
As students apply their mathematical knowledge and skills to solve real world problems, they also gain an understanding of why mathematics is important throughout our lives.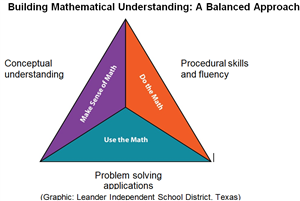 To achieve mathematical understanding, students should be actively engaged in meaningful mathematics. The content and practice standards focus on developing students'
conceptual understanding (make sense of the math, reason about and understand math concepts and ideas);
procedural skills (know mathematical facts, to compute and do the math); and
capacity to solve a wide range of problems in various contexts by reasoning, thinking, and applying the mathematics they have learned. Sealey, Cathy. Balance is Basic, A 21st Century View of a Balanced Mathematical Program
Guiding Principles for Mathematics Programs in Massachusetts
According to the Department of Elementary and Secondary Education (DESE), these principles should guide the design and evaluation of mathematics programs. Programs guided by these principles will prepare students for colleges, careers, and their lives as productive citizens (Massachusetts Mathematics Frameworks, 2017, p.11):
Guiding Principle 1
Educators must have a deep understanding of the mathematics they teach, not only to help students learn how to efficiently do mathematical calculations, but also to help them understand the fundamental principles of mathematics that are the basis for those operations. Teachers should work with their students to master these underlying concepts and the relationships between them in order to lay a foundation for higher-level mathematics, strengthen their capacity for thinking logically and rigorously, and develop an appreciation for the beauty of math.
Guiding Principle 2
To help all students develop a full understanding of mathematical concepts and procedural mastery, educators should provide them with opportunities to apply their learning and solve problems using multiple methods, in collaboration with their peers and independently, and complemented by clear explanations of the underlying mathematics.
Guiding Principle 3
Students should have frequent opportunities to discuss and write about various approaches to solving problems, in order to help them develop and demonstrate their mathematical knowledge, while drawing connections between alternative strategies and evaluating their comparative strengths and weaknesses.
Guiding Principle 4
Students should be asked to solve a diverse set of real world and other mathematical problems, including equations that develop and challenge their computational skills and word problems that require students to design their own equations and mathematical models. Students learn that with persistence they can solve challenging problems and be successful.
Guiding Principle 5
A central part of an effective mathematics curriculum should be the development of a specialized mathematical vocabulary including notations and symbols, and an ability to read mathematical texts and information from a variety of sources with understanding.
Guiding Principle 6
Assessment of student learning should be a daily part of a mathematics curriculum to ensure that students are progressing in their knowledge and skill, and to provide teachers with the information they need to adjust their instruction and differentiate their support of individual students.
Guiding Principle 7
Students at all levels should have an opportunity to use appropriate technological tools to communicate ideas, provide a dynamic approach to mathematics concepts, and to search for information. Technological tools can also be used to improve efficiency of calculation and enable more sophisticated analysis, without sacrificing operational fluency and automaticity.
Guiding Principle 8
Social and emotional learning can increase academic achievement, improve attitudes and behaviors, and reduce emotional distress. Students should practice self-awareness, self-management, social awareness, responsible decision-making, and relationship skills, by, for example, collaborating and learning from others and showing respect for others' ideas, applying the mathematics they know to make responsible decisions to solve problems, engaging and persisting in solving challenging problems, and learning that with effort, they can continue to improve and be successful.